US-traded Chinese stocks rebounded on Tuesday from a week-long plunge as rumors ofstricter relisting rules at home sent shares down.
Companies in the process of privatization saw their shares edge up after the marketspeculated their plan to return to the home market may be difficult to deliver.
E-commerce retailer Dangdang.com jumped 10.4 and Jumei.com 9.8 percent on Tuesday.Qihoo 360 Technology Co surged 8.9 percent and social media platform Weibo Corp 7.6percent.
Data center services provider 21Vianet Group rallied 14.9 percent, the most among US-traded Chinese stocks on Tuesday and pairing its one-week loss to 18 percent.
The China Securities Regulatory Commission said on Friday it is putting closer scrutiny onreverse mergers, a previously fast track for firms resorting to land on A-share market withoutqueuing for listing approval.
The latest expectation is that regulators may require overseas-delisted companies to wait forabout a year before seeking backdoor listing, an anonymous investment banker at HuataiSecurities told 21st Century Business Herald.
The source added that securities watchdog may also set a ceiling on price-to-earnings ratio orrestrict assets that companies can inject to the listed entity acquired.
At least 47 US-traded Chinese companies have received buyout offers totaling $42.6 billionsince the start of last year according to data compile by Bloomberg, as many saw valuation inShanghai or Shenzhen more appealing.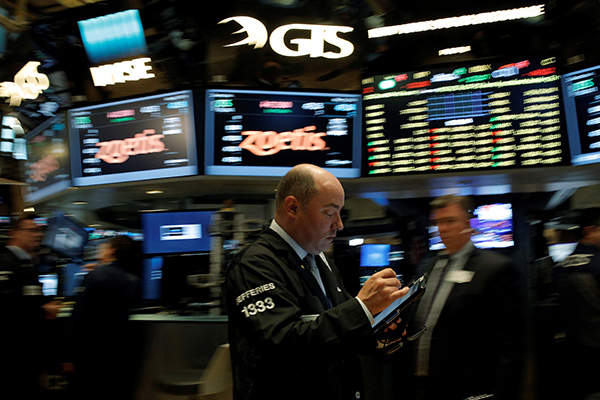 Traders work on the floor of the New York Stock Exchange (NYSE) in New York City, May 9, 2016. [Photo / Agencies]
(Source: China Daily)