China's quality watchdog is showing more initiative in recalling vehicles after a record numberof defective cars were reported in the country last year.
Twenty-eight automakers recalled 1.86 million cars through the first quarter of 2016, of which1 million cars were recalled after the top quality watchdog's investigations, the GeneralAdministration of Quality Supervision, Inspection and Quarantine said in a report on itswebsite on April 28.
The report said more than 260,000 recalled cars were imported, involving both volume brandslike Volkswagen, Hyundai, Toyota and GM and premium marques including Porsche,Mercedes-Benz, BMW and Maserati.
The administration said the media has helped in prompting carmakers to recall faulty cars.Noticing reports that Volkswagen and Porsche recalled cars overseas, the administrationcontacted the two carmakers and discovered that a number of their SUVs sold in China hadproblematic brake systems.
The watchdog said it immediately issued the notice to alert the public and talked tomanagement from the two carmakers, urging them to recall cars affected.
The move resulted in their recalls on April 18 of 103,569 Touaregs and 108,910 Cayennesmade between 2010 and this year and possible replacement of a circlip that could come looseand prevent the car from braking properly or cause the pedal bearing to break.
Automakers recalled 5.54 million cars in 2015, though a great proportion of them were theresult of faulty Takata airbags, hitting a record high since the recall system was introduced in2004 in the country.
In late 2015, the general administration vowed to further tighten its supervision and released adetailed regulation on car recalls that took effect from Jan 1.
The 43-article regulation covers six aspects ranging from information management andinvestigation to recalls and penalties.
Zhang Zhiyong, an independent auto analyst in Beijing, said the regulation is a positive signbut added that it should have included more punitive measures. A fine up to merely 30,000yuan ($4,617) is not an effective deterrent to carmakers, he said.
John Zeng, managing director at consultancy LMC Automotive Shanghai, said it is good thatthe watchdog is making it easier for people to file complaints about problems with theirvehicles. Investigations are conducted once a number of people complain about the sameproblem.
He said it would be more efficient if there was a separate agency dedicated to car qualitysupervision, such as the National Highway Traffic Safety Administration in the United States,because China's quality watchdog has to supervise many industries.
In addition to official supervision, he said Chinese customers' growing awareness of quality ishelping the watchdog to solicit more information and prompt carmakers and dealers to recallfaulty cars.
Young customers know more about cars and they are more demanding and willing to defendtheir rights than their parents, said Zeng.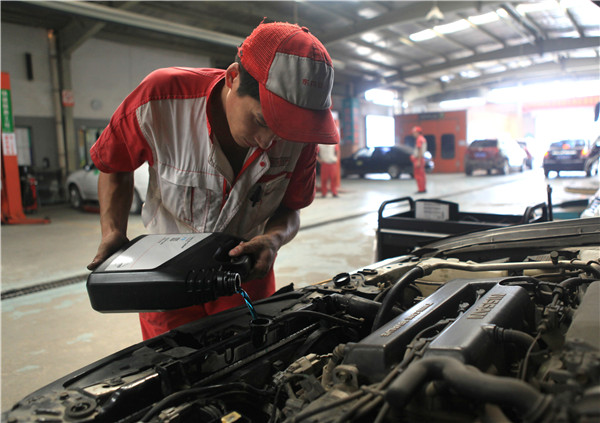 A technician at a 4s dealership in Pingdingshan, Henan province, works on a car. HE JINWEN/CHINADAILY
(Source: China daily)